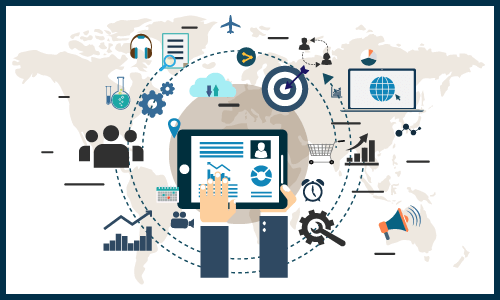 A new report on Food Thickeners market that provides a comprehensive review of this industry with respect to the driving forces influencing the market size. Comprising the current and future trends defining the dynamics of this industry vertical, this report also incorporates the regional landscape of Food Thickeners market in tandem with its competitive terrain.
Beneficial regulatory amendments by European union and FDA regarding use of natural food ingredients along with rising need for non-toxic edible constituents is likely to foster food thickeners market growth. These products are used to increase viscosity of food products including sauces, pudding and soups along with retaining the original taste, thereby propelling industry growth.
These products are used in easing dysphagia, which is a term used to describe difficulty in swallowing, thereby stimulating its demand in infant food application. Population of people aged over 65 face difficulty swallowing food which can lead to strokes and motor neuron disease, thereby driving food thickeners market.
Food Thickeners Market may surpass USD 12.5 billion by 2025; according to a new research report.
Request Sample Copy of this Report @ https://www.aeresearch.net/request-sample/286722
Food thickeners market from meat application is anticipated to surpass USD 1.5 billion by 2025. Most of the meat products reaches customers through food service which can degrade its taste and stability. Starch thickeners are used to provide tenderness, consistency and juiciness to meat products along with improving restaurant hold times by keeping the products fresh for a longer duration. These factors may propel product demand by 2025.
Germany food thickeners market from bakery & confectionery application is anticipated to observe gains of over 4.5% by 2025. Corn starch is used in thickening glazes, puddings and fruit fillings due to its high effectiveness in bakery products. Growing consumption of cakes, pastry, sweet pies, bread & rolls and savory biscuits, which utilizes thickeners in their manufacturing is anticipated to stimulate product demand.
India corn based food thickeners market is anticipated to witness gains of 7% by 2025 due to its extensive usage in processed food products in order to provide stability and improve overall texture. Recent and planned investments in the region for food sector from companies including Amazon, Parle Agro Pvt Ltd, Cargill Inc, Mad Over Donuts, Danone SA and Uber Technologies Inc is anticipated to further accelerate use of food thickeners in bakery, beverages, meat and sauces.
Food thickeners market from food & nutrition application is projected to surpass USD 2.5 billion by 2025. These products are widely used in food products including fruit jam in order to make is set and create texture to eliminate spillage. Thickeners including guar gums and xanthan gums contains fibers, which helps in maintaining digestive system, thereby stimulating product demand.
These products provide creamy flavor, smooth texture and consistency along with improving shelf life and quality attributes of food items. Hydrocolloids are extensively used as thickening agent in soups, gravies, salad and dressings in order to achieve desired viscosity. These factors are likely to stimulate food thickeners market by 2025.
Major Highlights from Table of contents are listed below for quick lookup into Food Thickeners Market report
Chapter 1. Competitive Landscape
Company market share
Food Thickeners Market Competitive analysis of key market players
Competitive analysis of other prominent vendors
Chapter 2. Company Profiles
Business Overview
Financial Data
Product portfolio
Strategic Outlook
SWOT Analysis
Chapter 3. Methodology & Scope
Methodology
Initial data exploration
Food Thickeners Market Statistical model and forecast
Industry insights and validation
Food Thickeners Market Scope
Definition
Methodology and forecast parameters
Data Sources
Chapter 4. Executive Summary
Food Thickeners industry 360º synopsis - 2025
Food Thickeners Business trends
Region trends
Chapter 5. Food Thickeners industry Insights
Food Thickeners Industry segmentation
Industry landscape 2025
Industry Pitfalls and Challenges
Threat of new entrants
Threat of substitutes
Food Thickeners Market Growth potential analysis
Request Customization on This Report @ https://www.aeresearch.net/request-for-customization/286722