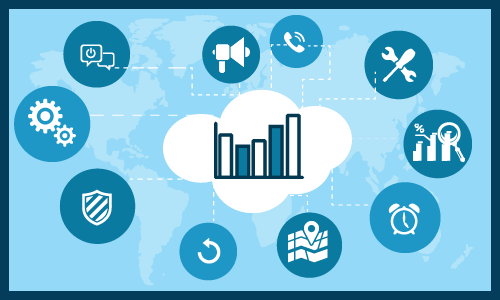 New research report on Helicopter Blades market, which is a detailed analysis of this business space inclusive of the trends, competitive landscape, and the market size. Encompassing one or more parameters among product analysis, application potential, and the regional growth landscape, Helicopter Blades market also includes an in-depth study of the industry's competitive scenario.
The OEM?s are investing in R&D to develop new high-speed concept helicopters which in turn will further increase helicopter blades market penetration over the study timeframe. The manufacturers are aiming to reduce the carbon dioxide emission and minimizes the noise levels with design of additional small rotors that enhances aerodynamics of helicopter operations. For instance, in June 2017, Airbus Helicopters, presented new rotorcraft design in Paris Air Show and announced that new helicopter can operate at speed of 400km/hr.
The collaboration of research institutes and helicopter manufacturers to develop the composite rotor blades for ultralight helicopters will boost the helicopter blades market growth. The researchers are performing several test including strength tests, blade workload calculation, FEM strength analysis, and blade vibration characteristics to ensure the efficient performance of blade design. For instance, in March 2017, the Institute of Aviation signed an agreement to continue research for innovative composite rotors of ultralight helicopters.
Growing helicopter demand across globe owing to the efficient performance in maneuvering flights including sideward, rearward, forward, hovering, and vertical translation. These capabilities make helicopter to be used in several missions including search and rescue (SAR), air petrol, transportation to offshore and rural places where take-off and landing spaces are limited. All these capabilities enhance usage in several operation and thereby support the helicopter blades market growth over forecast timeframe.
Request Sample Copy of this Report @ https://www.aeresearch.net/request-sample/328563
Civil helicopter application will grow considerably owing to increasing demand for helicopter-taxi services. For instance, in March 2018, Thumby Aviation Private Limited started heli-taxi services from Kempegowda International Airport (KIA) to city that reduces travel time to 15 minutes. Additionally, increasing usage of helicopters in emergency medical services will further support the segment growth.
The main rotor blades dominate the industry share owing to importance of main rotor in providing lifting forces to helicopter. The manufacturers are developing new production technologies such as no-spar configuration blades that reduces production time by 30% and improve the helicopter operation performance. For instance, in October 2016, Kazan Helicopters announced that engineers has enhanced Ansat performance by replacing main rotor blade with newly designed no-spar main rotor blades.
The helicopter manufacturers are entering into strategic joint ventures to manufacture products for military applications. For instance, in July 2018, Mahindra Defense and Airbus Helicopters announced a plan to produce the helicopters for Indian Military. The companies are engaged in discussion to finalize the joint venture agreement. This enable to enhance the domestic helicopter production facilities in India. All these strategic activities will support helicopter blades market growth.
The carbon fiber reinforced plastic (CFRP) segment will grow significantly in helicopter blades market owing to weight saving characteristics, and higher strength of the material. Additionally, the CFRP enhances the corrosion resistance and fatigue properties of rotor blades and minimizes maintenance requirement as compared to stainless steel and titanium rotor blades. The helicopter manufacturers are working with textile manufacturers to develop CFRP blades. For instance, in October 2015, Airbus Helicopter along with Porcher Industries announced launch of CFRP rotor blades for the H160 helicopters.
The OEM dominates the revenue share owing to rising helicopter production along with new military helicopter development projects. The inaugural on new helicopter assembly lines to enhance presence in several regions such as Asia Pacific will further support the market growth. For instance, in April 2019, Airbus helicopter inaugurated H135 helicopter assembly line in China.
Major Highlights from Table of contents are listed below for quick lookup into Helicopter Blades Market report
Chapter 1. Methodology and Scope
Definitions & forecast parameters
Methodology and forecast parameters
Chapter 2. Executive Summary
Business trends of Helicopter Blades Market
Chapter 3. Helicopter Blades Industry Insights
Helicopter Blades Market Industry segmentation
Analysis of Manufacturers in the Helicopter Blades industry
Distribution channel analysis
Helicopter Blades Market Technology & innovation landscape
Helicopter Blades Market Growth drivers
Industry pitfalls & challenges
Chapter 4. Company Profiles
Business Overview of Helicopter Blades Market Companies
Strategic Outlook and Decisive Analysis of companies in Helicopter Blades Market
Request Customization on This Report @ https://www.aeresearch.net/request-for-customization/328563