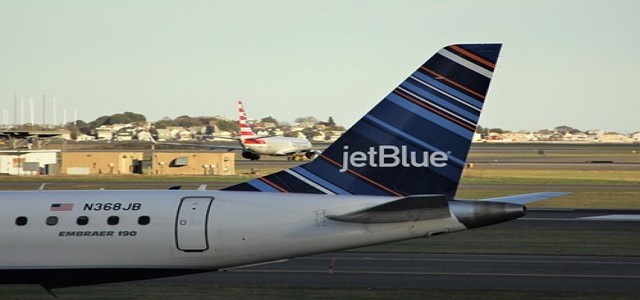 American airline JetBlue Airways recently announced plans to accelerate its shift to sustainable resources, by investing over USD 1 billion in sustainable aviation fuel (SAF) purchases in an offtake agreement with leading bioenergy developer SG Preston.
With this agreement, the airline positions itself ahead of its goal to convert 10% of its overall fuel utilization to SAF on a blended basis by 2030. JetBlue would reach about 8% SAF usage by the 2023-year end when SAF delivery under this agreement is expected.
The partnership between JetBlue and SG Preston is crucial for SAF in New York's airports. This agreement is anticipated to bring the first large-scale volume of locally produced SAF to New York's metropolitan airports for a commercial airline.
The agreement will cover JetBlue's fuel usage at LaGuardia (LGA), John F. Kennedy (JFK), and Newark Liberty (EWR) airports, reducing emissions by an estimated 80% per gallon of clean sustainable aviation gasoline as compared to traditional petroleum-based fuels.
SG Preston will provide a minimum of 670 million gallons of blended SAF to JetBlue to fuel its aircraft operations at LGA, JFK, and EWR beginning in 2023 and continuing for 10 years, helping JetBlue avoid roughly 1.5 million metric tons of CO2 emissions.
JetBlue CEO, Robin Hayes, expressed that they have moved on from ambiguous climate commitments and business strategy. They have set concrete, targeted, and stringent emissions targets earlier this year, and are now physically changing the fuel in their planes to achieve those goals, he added.
Randy Delbert Letang, CEO of SG Preston, said that the relationship between JetBlue and SG Preston is a model for a balanced partnership aimed at achieving both the airline's and global aviation's sustainability and pricing objectives.
New York is home to JetBlue, where almost 7,000 of the airline's employees live and work. The airline plans to significantly boost flying and bring more low prices and employment to JFK, LGA, and EWR as it continues to grow sustainably.
Source Credits –
http://mediaroom.jetblue.com/investor-relations/press-releases/2021/09-29-2021-132310033