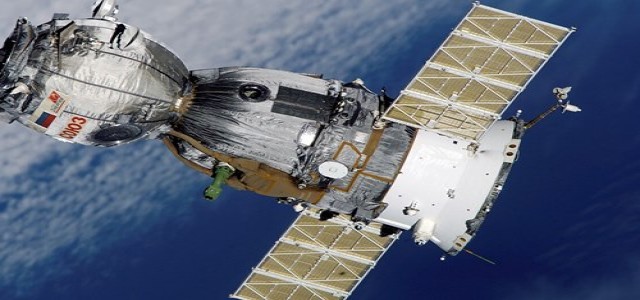 Russia announced that with a Soyuz-2.1b rocket and Fregat upper stage, it has successfully delivered its advanced Glonass navigation satellite to an orbit almost 12,000 miles above the Earth's surface.
This new satellite joins the presently active 24 navigation spacecraft in the Glonass fleet which is Russia's analog to the Global Positioning System of the US military.
Russian Ministry of Defense reported that the mission took place at 3:08:42 p.m. EDT on Saturday from the Plesetsk Cosmodrome, a 500 miles military-run launch base located in the north of Moscow with Russian Soyuz-2.1b rocket onboard. Liftoff took place at 10:08 p.m. Moscow time.
Nearly two minutes after the liftoff, the Soyuz rocket shed its 4 kerosene-fueled boosters while heading southeast from Plesetsk, followed by jettisoning the aerodynamic shielding of the Glonass satellite after arriving in space. The Soyuz core closed down and detached almost 5 minutes into the mission after which the ignition of the 3rd stage's RD-0124 engine took place. It separated around 5 minutes after liftoff and then the Fregat upper stage started a series of maneuvers to set the Glonass satellite in its targeted orbit.
The Fregat engine ignited thrice to set the Glonass payload in a circular orbit with a height of over 11,900 miles and a 64.8 degrees inclination. About three-and-a-half hours after liftoff, the Fregat upper stage unshackled the Glonass spacecraft.
This is the third spacecraft in the Glonass K series of navigation satellites, which are designed to transmit more navigation signals and last longer. The first two satellites of the Glonass K series were launched in 2011 and 2014.
This new spacecraft uses more Russian-built equipment than earlier Glonass spacecraft, a variation introduced due to international sanctions on Russia.
The Russian Defense Ministry stated that substituting the orbital constellation with Glonass K spacecraft will allow stable operations of the navigation system of Russia and improve the navigation determination accuracy up to tens of centimeters.
Russian officials confirmed that the satellite has extended its solar panels and the ground teams have successfully established contacts with the spacecraft.
Source: https://spaceflightnow.com/2020/10/26/russia-launches-glonass-navigation-satellite/